McHenry County Finance and Audit Committee met September 6.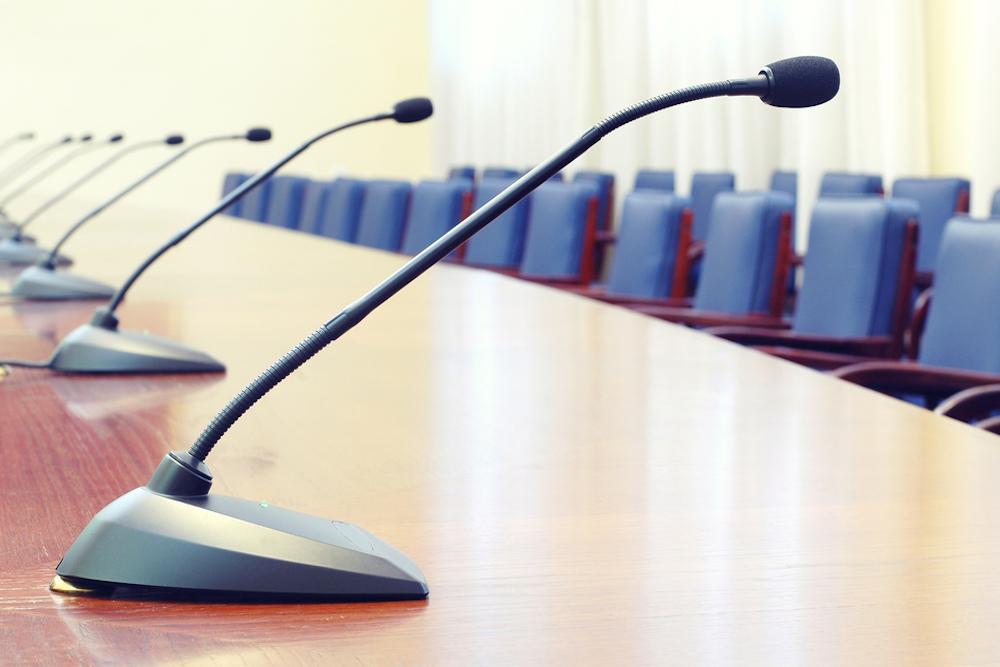 McHenry County Finance and Audit Committee met Sept. 6.
Here is the agenda provided by the Committee:
1. Call To Order
2. Minutes Approval
1. Finance & Audit - Public Meeting - Aug 9, 2018 8:15 AM
3. Public Comment
4. Members' Comments
5. New Business
1. ERP Project Invoice Approval 09/06/18
6. Presentation
7. Routine Consent Agenda
1. Resolution Authorizing a Budget Line Item Transfer in the Emergency Telephone System Board's Fiscal Year 2018 Budget for TriTech Software End User Training and Data Import
2. Resolution Authorizing Compression Adjustments to Eligible Non-Union Employees Who Have Worked Five or More Years Within Their Current Position for McHenry County
3. Resolution Authorizing An Amendment to Resolution R-201802-13-030 Changing the Vendor
from Governmental Business Systems to Election Systems & Software LLC to Provide the Printing of the 2018 General Election Ballots
4. Resolution Adopting a Predictable Fee Schedule for the Recorder's Office
5. Resolution Authorizing a Two (2) Year Base Contract with United States Alliance Fire Protection of Lake Forest, Illinois for Fire Protection Inspections with Two (2) Additional Option Years
6. Resolution Authorizing Monthly Transactions for the Delinquent Tax Program
7. Resolution Authorizing Thirty-Six Month FireEye Endpoint Security Software Maintenance and Support
8. Resolution Authorizing a Sixty Month Multi-Function Device Lease, Including Managed Print Services with Stan's LPS Midwest
9. Resolution Authorizing an Intergovernmental Agreement Between the County of McHenry and the City of Woodstock for Off-Site Data Storage
10. Resolution Authorizing a Contract with Associated Electrical Contractors, LLC for the Purchase and Installation of a 60KVA Eaton UPS and a Line Item Transfer to the Fiscal Year 2018 Non- Departmental Budget
11. Resolution Authorizing Adjusting the Pay Grades of Veterans Assistance Commission (VAC) Positions - Based on the County-Wide Classification and Compensation System
12. Resolution Authorizing the Acceptance of the Sustained Traffic Enforcement Program (STEP) Grant from the Illinois Department of Transportation (IDOT) for Fiscal Years 2018 and 2019 and an Emergency Appropriation to the Sheriff's Fiscal Year 2018 Budget
13. Resolution Authorizing the County to enter into a Contract with Aramark , LLC to provide inmate meals in the McHenry County Sheriff's Office for a base two year contract (12/1/2018-11/30/20) and two additional option years (12/1/20-11/30/22)
14. Resolution Authorizing the McHenry County Department of Health to Expend over $35,000 to Cardinal Health in FY2018 for Vaccine Purchases under the Minnesota Multistate Contracting Alliance for Pharmacy Government Contract
15. Resolution Amending County Board Approved Resolutions R-201711-61-309, R-201711-61-306, R-201711-61-311, R-201711-61-308, R-201711-61-308, R-201712-61-367 and Allowing Valley Hi the Authority to Spend Funds Related to the Identified OCA Codes up to the County Board Approved Valley Hi FY2018 Operating Budget
16. Resolution Authorizing the Purchase of Portable and Mobile Radios through the State of Illinois Department of Innovation and Technology Statewide Master Contract for Starcom 21 Equipment, No. DIT7016660, Authorizing the Execution of a Finance Agreement with Harvard State Bank and Authorizing the Use of the Regional Transportation Authority (RTA) Quarter Cent Sales Tax Fund for this Purpose
17. FY18-19 Budget Review
1. Recorder
2. Revolving Loan Fund
8. Items Removed From Consent Agenda
9. Old Business
1. Discussion: Travel and Business Policy
2. Discussion: Debt Policy
10. Reports
1. Auditor's Report
2. Contigency Reports
3. Economic Development Corporation
4. Visit McHenry County
11. Executive Session (As Necessary)
12. Adjournment
https://mchenrycountyil.iqm2.com/Citizens/FileOpen.aspx?Type=14&ID=4511&Inline=True
Want to get notified whenever we write about
McHenry County
?
Next time we write about McHenry County, we'll email you a link to the story. You may edit your settings or unsubscribe at any time.
Sign-up for Alerts
Organizations in this Story
More News