McHenry County Mental Health Board met April 23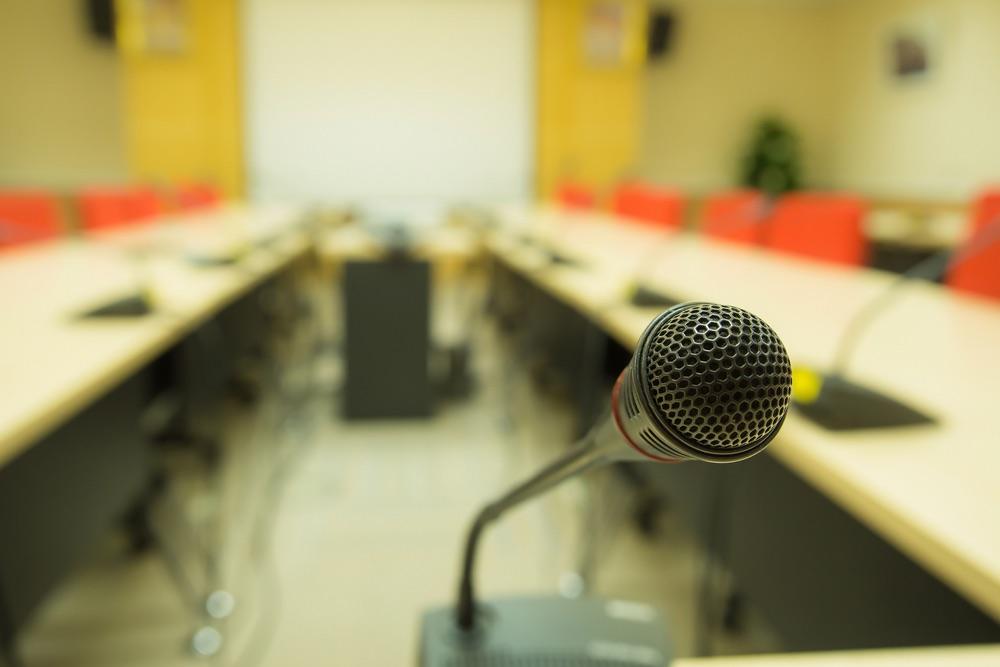 McHenry County Mental Health Board met April 23.
Here is the minutes provided by the board:
Board Members present: Mike Baber (6:29pm), Rachel Boldman, Tracy Champion, Cathy Ferguson, Sam Melei, Connee Meschini, Sarah Wilson, Paula Yensen
Board Members absent: Dawn Pruchniak
Others present: Scott Block, Terry Braune, Jane Wacker, Pat Peterson and other interested parties
1. CALL TO ORDER – Connee Meschini called the meeting to order at 6:01 p.m. Roll call was taken. 2. PUBLIC COMMENT – None.
3. APPROVAL OF MINUTES - FOR ACTION
Paula Yensen motioned to approve the Minutes of the March 21, 2019 Regular Board Meeting. Seconded by Rachel Boldman. A VOICE VOTE WAS TAKEN. All in favor. Motion carried.
4. REPORTS
A. President's Reports - C. Meschini
Connee directed members to the President's Report packet beginning on page 9. Events upcoming include: Walk to Prevent Suicide, The Human Race, Rosecrance Women Specific IOP Program, Motivational Interviewing Training, QPR Gatekeeper (Suicide Prevention) Training, Newly Elected Official Training, Fair Diddley, Adult and Youth Mental Health First Aid Training and the McHenry County Suicide Prevention and Mental Health Wellness & Recovery Conference.
B. Director's Report - S. Block
Scott referenced the Director's Report Packet beginning on packet page 19. He noted:
 HFS Medicaid Administrator, Doug Elwell, spoke to Integrated Health Home implementation delay as HFS seeks to restructure the Illinois based model off those in other states. Goal is to have a plan in FY20 that separates youth and adult health home requirements. ACMHAI aims to be represented on the IHH rule making committee.
 Quarterly Meeting Legislative Updates included HB844, HB2207, HB3317, HB 3596, HB3817, SB1673, and others on ACMHAI watch/oppose/support list. Bills charged with reducing MHB funding have not passed.
 MHB ED met with Northwestern Medicine representatives to discuss the potential for detox services. Northwestern Medicine is engaging in system wide strategic planning and detox will be evaluated.
 MHB sponsored a series of MCHELP ads to be placed in 2019 Fall High School Sports Schedules at Crystal Lake, Huntley, McHenry, Woodstock, and Richmond-Burton High Schools.
 MHB ED provided the NW Herald with an article to be published in a series on the opioid crisis.
 MHB worked with NAMI to assume QPR Suicide Prevention Program administration as QPR fits well with NAMI signature programs and Mental Health first Aid offerings.
 MHB is working with Options & Advocacy to assume administration of the Care Track program that has been maintained by the MHB in recent years.
 Turning Point received its Certificate of Occupancy for their new building and plan to start providing PAIP services out of the new space immediately. An Open House date is to come.
 Emergency Appropriation Resolution is scheduled for PHCS review on May 2nd, County Finance review on May 9th, County COW on May 16th and County Board on May 21st.
 Thoughts for Public Hearing – extend public comment on regular May meeting. Letters welcome. Cathy noted feedback from last year's meeting would be good for follow up on. Scott suggested adding a section to his report.
 Connee Meschini, MHB President, was bestowed the honor of being named a McHenry County Woman of Distinction. The awards luncheon is schedule at 11:30 am on May 9, 2019 at the Boulder Ridge Country Club.
C. Finance and Audit Committee - S. Melei
Sam Melei reported that the Finance and Audit Committee met last week. They reviewed the Treasurer's Report. All was found to be in order. Routine matter of Vendor Categories for Check Release and Policy approval are on the agenda for discussion and/or action tonight.
After discussion of the Kaizen Health Transportation program, the Committee recommends to the full Board an increase in funding.
FY20 Budget was reviewed and discussed at length with Committee consensus to move reserve funds into the FY20 budget for community support and service development. This would give MHB easier access to dollars needed to fill service gaps by avoiding the emergency appropriations procedure. Risks were discussed.
D. Network Council - C. Ferguson
The Network Council met yesterday. Kelsey Podgorski provided a presentation about the Volunteer Center and explained training opportunities. A handout of upcoming Volunteer Center trainings, sponsored by (and held at) the MHB, was given to each Board member.
Scott provided updates on House Bills and encouraged all members to contact County Board members as a group in order to advocate for themselves regarding future abatement of MHB funds.
Terry is currently providing compliance training at the QMT meetings. Their next meeting will be about monitoring, auditing and reporting systems. Continued emphasis will be on training that focuses on core competencies.
Intake Coordinators will receive a monthly waitlist to aid in service navigation.
The CoC report provided the statistic that it takes a wage of $23 per hour to afford a 2 bedroom apartment in McHenry County. HUD is moving toward a 3-tiered approach to stabilize people, aiming to make homelessness brief, temporary, and non-episodic. TBI, Substance Abuse Coalition, Suicide Prevention Taskforce and IDD also provided reports.
E. Ethics and Compliance Committee - D. Pruchniak – None.
F. Buildings and Grounds Committee - C. Ferguson
Cathy reported that the Buildings and Grounds Committee met just before the Board meeting. Daily maintenance costs and building issues like bathroom cleaning, etc. were discussed. They reviewed ongoing issues, building updates and future capital improvement needs. The Budget will be impacted when large improvements need to be made (carpet, flooring, and roofing). There is no statutory opportunity to "build" reserve to prepare for these items.
G. Board Site Visit Report(s)
i. Mike Baber – Thresholds – No report this month.
ii. Rachel Boldman - Greater Elgin Family Care Center
Rachel recently met with Bob Tanner and Marc Genson. Discussion included:
 Agency mission, work in the community and mission to provide services for all: uninsured, underinsured and commercially insured
 Designation as Federally Qualified Health Center (FQHC)
 85% of clients served are from McHenry County
 Depression, anxiety, PTSD, ADHD, alcohol related disease are most common treatment need
 Strengths include: high quality staff, collaboration, teamwork, accountability, outcomes
 Needs include: recruitment of psychiatry, medical management of substance abuse, difficulty in ability to access specialists
iii. Tracy Champion - Horizons, Independence Health and Therapy, Turning Point
Agency: Horizons Behavioral Health – Tracy met with Melinda Struthers, Office Manager. Discussion included:
 Horizons has two psychiatric students who see patients that receive public aid. This is funded by MHB through Warrant of Need. More funding for this would be very helpful
 Service gaps include the need for more therapists to take patients who receive public aid
 Five physicians own and work in the practice
 Therapists are always looking for CEU credits and appreciate what the MHB has provided
 Better transportation services within the county are needed Agency: Turning Point – Tracy met with Jane Farmer, Executive Director.
 New building for grant funded program Partner Abuse Intervention Program allows for a separate space to keep offenders out of the main building where children are present
 Need: refresher training for long term staff and training for those who serve Latino population
 Noted service gap of low-income housing in the county
 Turning Point received 1,700 crisis calls and had 323 school presentations in 2018
 Annual dinner/auction fundraiser will be held on April 26th
 Better transportation services within the county are needed
Agency: Independence Health & Therapy – Tracy met with John Buckley, Executive Director, Gretchen Husted, Clinical Director, and Mary Fisher, CFO.
 Family Alliance and Adult and Child Therapy Services merged in August 2018
 Services are still being provided at the old ACTS building in Woodstock, but the plan moving forward is to add on to the building located on Seminary Street and move the children services to that location, eventually selling the building on Washington Street.
 Independence Health also has a location in Huntley which currently sees adults only
 Service gaps: pediatric behaviorists, geriatric psychiatry, and preventative psychiatry
 A challenge most agencies will be facing is the increase in the minimum wage
 Better transportation services within the county are needed
iv. Connee Meschini - Pioneer Center - Connee met with Sam Tenuto, CEO. Key discussion points were:
 Need: training for clinical staff – MHB Network training is offered periodically targeting clinicians, providing CEUs.
 Offers 17 residential programs
 Strengths: services; business run in-house, getting out into the community
 Challenges: autism center, shelter – need more volunteers and grow IDD
v. Sarah Wilson - Northwest CASA – Sarah met with NW CASA staff, discussion included:
 Appreciate MHB training
 Need: Recommend longer trainings that are not affordable for small agencies
 Need: Transportation issues
 They have more clients than they can serve (especially since the #MeToo movement)
 Some clients don't like tele-psychiatry program
 See need for performing case management services out of necessity
 Minimum wages issue will impact their agency
5. CONSENT AGENDA - FOR ACTION
A. 201904-24 Treasurer's Reports for the Period Ending March 31, 2019
B. 201904-25 MHB Monthly Bills - $938,540.26
C. 201904-26 2019 Cost Allocation Plan
D. 201904-29 Fiduciary Payments, Monitoring and Auditing - Revised
E. 201904-30 Vendors/Categories Pre-Approved for Check Release
F. 201904-31 MCMHB Requirements and Guidelines for Allocations of Funds
Sam Melei motioned to approve Consent Agenda items A, B, C, D, E, and F. Seconded by Sarah Wilson.
A ROLL CALL VOTE WAS TAKEN. Sam Melei – Yes, Rachel Boldman – Yes, Tracy Champion – Yes, Sarah Wilson – Yes, Paula Yensen – Yes, Michael Baber - Yes, Cathy Ferguson - Yes, Connee Meschini – Yes. All in favor. Motion carried.
6. OLD BUSINESS - FOR DISCUSSION/FOR ACTION – None.
7. NEW BUSINESS - FOR DISCUSSION/FOR ACTION A. 201904-27 FY19 Kaizen Health Budget Adjustment
Scott provided a Kaizen Health overview and explained the reason for increasing the budget for this transportation system. He asked the Board to consider an increased budget line but needs a formal vote to do so. He referenced attending a transportation meeting this morning with MCDOT and others involved in County transportation. The Kaizen program is accessed via computer and allows for on demand, point to point transportation. To register MHB Network Providers, Scott contacts Kaizen on behalf of agency requesting the service. Kaizen sets up an online meeting with the agency to familiarize them with the system. A chart on packet page 62 demonstrates how to use the program that is limited to behavioral health appointments. Sam suggested that all agencies sign up for this as transportation continues to be mentioned as a need. Mike Baber motioned to move $30,000 from unallocated funds to the fund balance to cover additional transportation needs through the Kaizen Health program. Paula Yensen seconded. A ROLL CALL VOTE WAS TAKEN. Sam Melei – Yes, Rachel Boldman – Yes, Tracy Champion – Yes, Sarah Wilson – Yes, Paula Yensen – Yes, Michael Baber - Yes, Cathy Ferguson - Yes, Connee Meschini – Yes. All in favor. Motion carried.
B. FY19 Outcomes Reports
Scott reviewed Outcome Reports presented at Monday's MHB Ethics and Compliance Committee meeting. These included the FY19 FFS-POP-Grant Outcomes Summary Report, Graphs for Q1 and P4P Outcomes Report Q1 on pp. 70-74. Agencies report individually to the MHB but these reports are provided in a collective manner. The new Foundant system has allowed staff to produce these reports.
Pp. 73, shows Domain 8 – Access/Capacity showing clients active and new in the first quarter of the year. The year- to-date total confirms over 12,000 duplicated clients have received services.
On p. 74, P4P Outcomes Report was reviewed. Among other items noted, the average no-show rate is about 15% and average network productivity 77%. Of note, client satisfaction is high for services received by agencies.
Connee asked to move New Business D. up in the Agenda, before New Business C.
D. 201904-32 Conditional Grant Agreement Between MHB, Pioneer Center and NDARS Scott reviewed the Conditional Grant Agreement and pointed out:
Ex A: provision of relationship between Pioneer and NDARS
Ex B: actual lease between Pioneer Center and The Chapel
Ex C: Pioneer Center funding proposal for homeless shelter at The Chapel
He noted Pp. 76: in total both projects will be completed with MHB funds of $675,000, the amount of Emergency Appropriation. $475,000 will go into a construction escrow account for Pioneer Center to complete capital items related to the year-round homeless shelter. Secured in the lease agreement, Pioneer Center would operate shelter at The Chapel for no less than 7 years. Upon approval of zoning on the KVR property, $200,000 in MHB funds would be transferred to satisfy purchase price allowing NDARS to operate a Recovery Residence. If zoning is not approved, MHB dollars would not be transferred and Pioneer is free to sell the KVR property to any party. A provision in the agreement states that if NDARS is up and running but wishes to sell the property within 10 years or stop operation as Recovery Residence, they would owe the MHB back $325,000. Two long identified and critically needed service gaps are met through the completion of this project. Mike Baber motioned to approve the Conditional Grant Agreement Between MHB, Pioneer Center and NDARS. Paula Yensen seconded. A ROLL CALL VOTE WAS TAKEN. Sam Melei – Yes, Rachel Boldman – Yes, Tracy Champion – Yes, Sarah Wilson – Yes, Paula Yensen – Yes, Michael Baber - Yes, Cathy Ferguson - Yes, Connee Meschini – Yes. All in favor. Motion carried. All in favor. Motion carried.
C. 201904-28 FY20 Draft Budget
The FY20 Draft Budget was presented to the Board members and projected on screen for public view.
Scott reviewed items line by line. Line totals were provided for
Personnel, Administration, Total Transfers Out (County Maintenance, County IT, Debt payment), Occupancy, Community Funding (Provider Managed), Community Funding (MHB Managed), and Utilization of Fund Balance. Board members engaged in a significant amount of discussion around the County Board's desire to maintain the current collective "abatement" level in FY20 and Scott provide information relevant to County Budget policy.
https://www.cmap.illinois.gov/documents/10180/1004443/BoardMinutes04-10-2019.pdf/79a13efd-3aef-aba2-4bcb-252db50d782f
Want to get notified whenever we write about
McHenry County Mental Health Board
?
Next time we write about McHenry County Mental Health Board, we'll email you a link to the story. You may edit your settings or unsubscribe at any time.
Sign-up for Alerts
Organizations in this Story
McHenry County Mental Health Board
More News