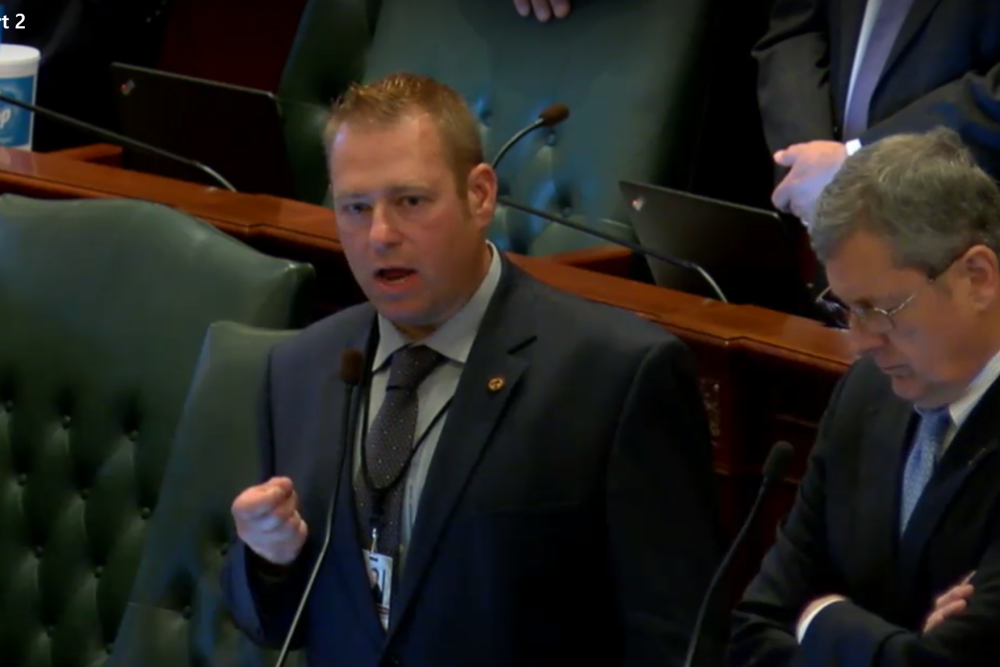 Illinois state Rep. Allen Skillicorn (R-East Dundee)
Illinois state Rep. Allen Skillicorn (R-East Dundee) is giving Gov. J.B. Pritzker all the credit he believes is deserved based on reports that Illinois motorists spent $100 more in gas taxes during the first month of the state's new levy.
"Thank you very little, J.B. Pritzker," Skillicorn recently posted on Facebook.
According to The Illinois Department of Revenue, state drivers paid $203.7 million in gas taxes in July, the first month that the state gas tax officially doubled to $38 cents per gallon as part of the new state budget.

Illinois Gov. J.B. Pritzker
The hike took effect not long before federal agents raided the home and offices of longtime state Sen. Martin Sandoval (D-Chicago), head of the powerful Senate Transportation Committee and the man who led the charge in imposing the hike, as part of a federal corruption. The ongoing scandal has prompted Pritzker to publicly assure taxpayers that all of the revenues generated from the new tax will be properly used.
At the same time the gas tax was imposed, tax and fee hikes were also passed on at least 21 other goods and services. Meanwhile, Skillicorn has long resisted the urge to burden Illinois motorists with additional taxes.
"Hiking up the gas tax is a regressive tax that will hit the people who can least afford it the hardest," Skillicorn wrote in an op-ed piece for the Northwest Herald last June. "Families living paycheck to paycheck will have to make sacrifices just to afford to drive to work and back."
Skillicorn also lamented about projections that such a tax, even one as low as 1 percent, would empty $1 billion nationally from the pockets of consumers.
"Illinois' population of just under 13 million people represents about 4 percent of the total U.S. population," Skillicorn said. "So, the impact of increasing the cost of a gallon of gas by 1 percent in Illinois will cost consumers an estimated $40 million. In other words, the estimated cost of this gas hike to Illinois consumers is about $400 million annually. That is $400 million that could go toward buying new shoes for kids to start the school year or repairing the roof. Instead, that money is going to go to government to service more debt."