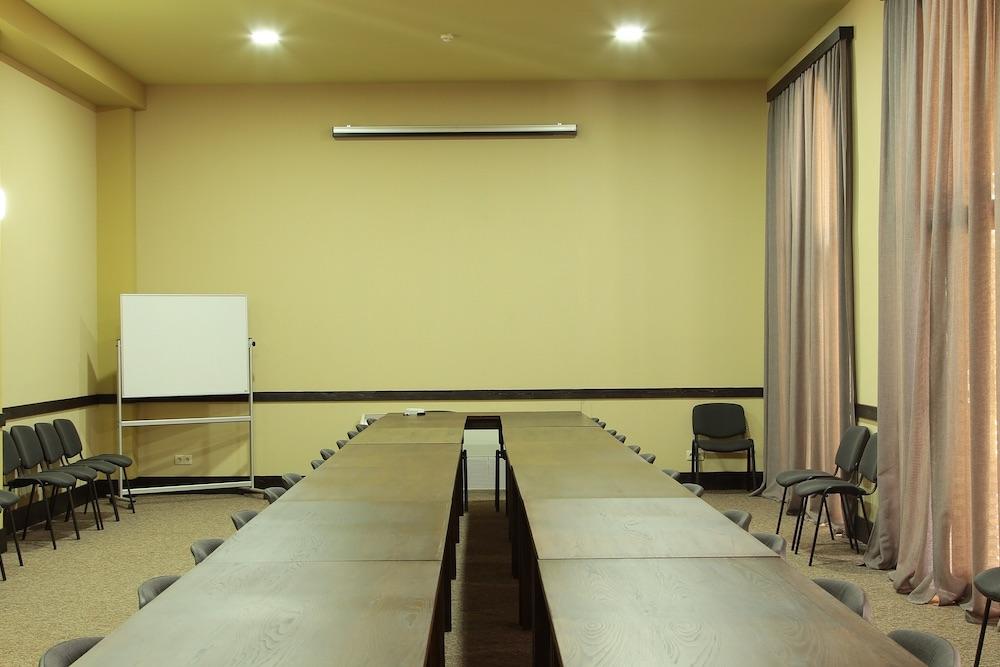 City of Harvard Events Committee met Nov. 12.
Here is the minutes provided by the committee:
Chairman Evers called the meeting to order at 5:30 pm. Committee members present: Raul Meza, Scott Logan, Lori Moller, Michelle Luis, Derek Malinowski, Kim Raciborski, Francine Sinderson and Tina Viray. A quorum was present. Also present were Mayor Kelly, Charlie Hernandez, Sonia Hernandez, Janet Hugg, Kathleen Robson, Dawn and Cheyenne Bihlmaier.
PUBLIC COMMENT
None
MINUTES - APPROVED
A motion was made by Scott Logan, seconded by Tina Viray to approve the Events Committee Meeting Minutes of October 15, 2019, as presented. All ayes. Motion carried.
TREASURER'S REPORT - APPROVED
Treasurer Scott Logan reviewed the Treasurer's report. Current revenue for Christmas in Harvard is $1,900 in general sponsorship and $325 in tree sponsorships. A motion was made by Scott Logan, seconded by Derek Malinowski to accept the Treasurer's Report as submitted. All ayes. Motion carried.
CORRESPONDENCE
None
COMMUNITY MOVIE NIGHT
There were 55 in attendance at the November 9th movie night. Lori noted attendance figures were included in the packet covering dates from the inception of movie night in 2009 through current.
Upcoming Movie Night
December 7 Dr. Suess' The Grinch
FOOD TRUCK FEASTIVAL – SEPTEMBER 19, 2019
• Kim indicated that food vendors are inquiring about the application for the event.
• The Committee reviewed the proposal submitted by Jeff Kleinschmidt, Big Bang Festivals for various acts for with band costs ranging from 15K- 60K. Laura expressed concern over the large increase from our 2019 entertainment expense and wasn't sure we could get sponsorship for a national act. Alderman Meza didn't think Harvard people would come to an event with a $20 ticket price and felt the Events Committee shouldn't promote an event where local people probably wouldn't attend. The Committee discussed incorporating smaller bands, including local mariachi bands and working towards a true Dual Language/City event. Laura spoke with the schools who were interested in having a separate event in July with entertainment and food that would be geared towards Hispanic families and working with the Dual Language Program.
• There are valid reasons to have the event at Milky Way Park instead of on Ayer St.
• Laura contacted the group Bella Cain whose cost would be less than $20,000. They are very focused on family entertainment and promote a community event including police and fire depts. Tina recommended checking their playing schedule for the weeks before and after our event which might impact our attendance. They were not available on September 19th, but could perform on Friday evening, September 18th. Laura will let them know that the Committee would like to stay with our scheduled date.
• The consensus was that the Committee shouldn't take such a large step with the national acts presented by Big Bang Festivals and event should grow gradually with smaller acts for 2020.
• Other band options mentioned were Melon Cougar amd Cashmere. Charlie offered to have his band as an opening act at no cost. An Entertainment Committee (Kim, Derek, Charlie, Anne) will research multiple bands up to $10,000 in costs and will report back at the next meeting. If there are more than two committee members on the Committee, an agenda needs to be posted 48 hours in advance.
CHRISTMAS IN HARVARD
Treasurer Logan presented a draft budget. After discussion, the line item for meals & entertainment was deleted as it is not needed. Any food items that Tina procures will be put in the Entertainment line item. The banquet roll tablecloth listing was moved to the Entertainment line item. If the uncategorized expense in the amount of $264.60 is for the foam for the Ayer St. Christmas Tree Project, the expense will be moved under the trees. A motion was made by Alderman Meza, seconded by Tina Viray to approve the proposed budget for Christmas in Harvard with changes as discussed. All ayes. Motion carried.
Alderman Meza and Mayor Kelly left the meeting at 5:50 pm to attend the Finance Committee Meeting.
Advertising and Marketing
• There really isn't any committee member assigned to advertising.
• MCC is assisting in the design and setup with the synchronized lighting/music for the 20' light tunnel which will be located where the gift shoppe was last year.
• First Place Promosions will design the flyer and Lori will get approval from the school for backflyer distribution. The goal for next year is to revamp the original flyer that was designed a number for years ago.
Derek said his wife is a graphic designer and might be available to assist designing the flyer.
• Lori will make Scott a full admin on the Events Committee Facebook page.
Alderman Meza left the meeting at 6 pm to attend the Finance Committee Meeting.
Breakfast With Mrs. Claus
Breakfast with Mrs. Claus will be at Kelley's Restaurant from 8:30 am - noon. Menu is free pancakes for children up to age 12 with a paying adult. Individuals may order off the menu. Julie Zell is available for the parade and Breakfast with Mrs. Claus.
Tree Project (Kathleen Robson/Joanne Seyller)
21 trees have been sold at $25 sponsorship each. The trees will be in place before Thanksgiving and are supposed to be decorated by December 3rd. Tina is making the signs. Laura suggested having Supt. Knop put the signs on at the same time as the trees are put up. After discussion, a motion was made by Scott Logan, seconded by Michelle Luis to donate the Ayer St. Christmas Tree donations to the Harvard Food Pantry. All ayes. Motion carried.
Coloring Contest (Janet)
Janet reported that the coloring contest sheets have been distributed to the schools with pictures that are grade specific, K-5. The reverse side of the coloring sheet will be used for student contact info, basic instructions and the sponsor ad. Entries need to be returned to teachers by Monday, November 25th. Janet will set up the judging during the 1st week of December. She will use the same lattice board as last year to display the winning entries at Starline.
Craft Show (Francine/Lori)
There are 9 paid vendor applications received to date, with several others interested. The Harvard Moose Lodge is also hosting a craft show for the same day. Lori suggested trying to coordinate with other groups next year to have vendors at multiple locations so we aren't competing with each other.
Crafts, Adult & Kids (Tina/Library)
The library is set with crafts but will need 4-5 volunteers, preferably older. Tina will advise Karen that she needs to bring her printer; the Committee will reimburse her for ink.
Entertainment (Tina)
• Tina recommended giving MCC students $100 for their assistance with the light tunnel.
• Culver's will have Scoopie passing out tokens at Starline; hey are also interested in participating in the parade.
• Harvard Madrigals will perform at 10:30 am, Jr. High will perform a couple songs at 11 am, Marian Madrigals will perform at noon for 1-2 hours. During the off times, the syncronized music will be playing.
• Steel Heart is sponsoring the "photo booth" present and will be providing part of a gazebo which will have a top and have their ornaments hung on the frame.
Fun Run (Michelle) Cancelled.
HFPD (Laura)
The HFPD will be in the parade.
Parade (Scott)
The Committee discussed the time frame for the parade which was originally scheduled for Friday, December 6th, starting at 4:30 pm, followed by a tree lighting ceremony. Scott created a Facebook poll with poll results at 170 to 27 to move it to 5:30 pm. There is a train that comes through at 5:30 pm. After discussion, the consensus was to move the parade time to 6 pm with line up in front of the Police Dept. instead of at Washington School.
Raffle (Women for Harvard)
Sonia will meet with Janet to get details on how she did the raffle last year.
Refreshments (Dawn Bihlmaier/4H)
Dawn updated the Committee on the refreshments which will be mostly the same as last year. Tina has contacted La Loncherita to purchase a limited amount of tamales and Champurrado to sell during the event. Dawn will contact the Health Dept. to obtain the permit.
Sponsorship (Laura)
• Laura has committed sponsorship in the amount of $3,500 and is following up with several other businesses.
• A motion was made by Scott Logan, seconded by Derek Malinowski to approve the following in-kind sponsors: Steel Heart $700 and Ace Hardware $194 in discounts. All ayes. Motion carried.
• Signs are needed for both Steel Heart and Hartwig noting their sponsorship. Scott has some cedar boards that Laura will pick up and cut for signs.
Visit with Santa & Raffle (Women For Harvard)
Sonia reported that their Santa is unable to participate. Laura will contact Jeff Martin to see if he would be interested.
CASINO NIGHT - TABLED
The Events Committee discussed the proposed budget for Casino Night on February 29th, 2020. The Committee is comprised of Tammy Herrera, Sheila Henson, Kelley Henson and Michelle Luis. The consensus was to have two Event Committee members on the committee; Alderman Meza volunteered to be on the committee. There were several questions about the 300% increase over last year's budget. Michelle said the committee thought there would be greater attendance with a live band and more sponsorship. Tina indicated she would like additional details before moving forward with the request. A motion was made by Scott Logan, seconded by Lori Moller to table Casino Night budget discussion until the next meeting. All ayes. Motion carried.
NEW YEAR'S EVE KIDS BASH/TRINITY LUTHERAN CHURCH
Lori related that she spoke with Spring Gieske and the only assistance Trinity Lutheran Church needs is to run copies of the flyer for backpack distsribution. A motion was made Scott Logan, seconded by Tina Viray to approve Trinity Lutheran Church's request to organize the event to be held in the basement of Trinity Lutheran Church. All ayes. Motion carried.
JOHN LEGEAR/MOVIE MUSIC ROMANCE PROGRAM (MICHELLE, FRANCINE, TINA)
The Library is coordinating the event with a date to be determined.
NEW BUSINESS/OTHER EVENTS
Alderman Raul presented a suggestion for a future kids event with remote control type electric cars.
EVENTS COMMITTEE CHAIRMAN'S REPORT
No report.
MAYOR'S REPORT
No report.
UPCOMING MEETING DATE
A motion was made by Scott Logan, seconded by Michelle Luis to cancel the regular meeting for November 19, 2019. The next regular meeting is Decemnber 17, 2019, at 5:30 pm.
At 6:15 pm, a motion was made by Scott Logan, seconded by Michelle Luis to adjourn the meeting. All ayes. Motion carried.
https://www.cityofharvard.org/sites/default/files/fileattachments/events_committee/meeting/12001/minutesevents2019-11-12.pdf