The lake | Courtesy of Texas Star Realty Professional
McHenry County Historical Society and Museum issued the following announcement on Sept. 19.
The McHenry County Joint Council of Historic Groups ordered up some outstanding summer weather. in mid-September. for an informative pontoon boat tour of Island Lake. The hour-long excursion around this man-made lake not only benefited the Island Lake Historical Society, it gave a behind-the-scenes peek at this little oasis. Located just to the north of Route 176, the lake dates back to 1929, when a group of wealthy sportsmen damed Mutton Creek in an effort to create their own private hunting preserve. When the Great Depression hit, the National Mortgage and investment Company, controlled by Mark and Joseph Horowitz, took control of the land and began developing the land for homes. Modest homes on tiny lots remain sandwiched along every foot of shoreline. The 80-acre lake is shallow, no more than 15 feet deep at its deepest point. and then after recent rains. That makes it a welcome destination for panfish and - unfortunately – carp. There also is a rare lotus bed and the occasional cormorant.
The village owns five public beachesf and all of the homes are on municipal sanitary service.
It survived the Palm Sunday tornado of April 11, 1965, which cut through Crystal Lake and carved a trench through the lake bottom. It also boasts an island park. provided you are up a creek with a paddle. For information about booking an Island Lake boat tour, contact Liz Nelson at 847-609-9050 or email her at lizznelson@me.com. A $10 donation is requested.
Special thanks to our hosts, Connie Mascillino and Cindy Graff of the Island Lake Historical Society, for a wonderful and informative program.
Original source can be found here.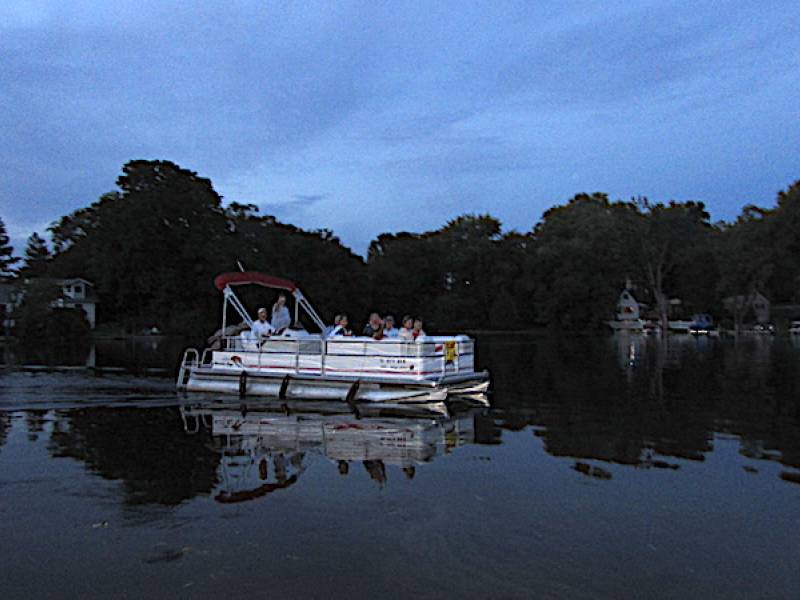 Source: McHenry County Historical Society and Museum