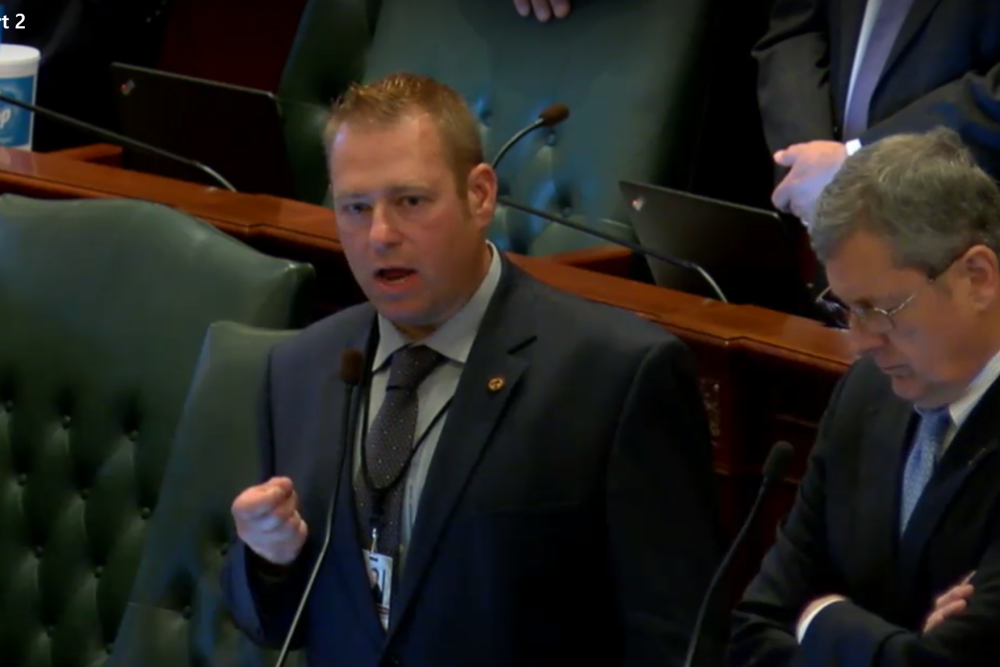 Illinois state Rep. Allen Skillicorn (R-Crystal Lake)
State House Rep. Allen Skillicorn (R-Crystal Lake) supports a proposal that would demand more from "able-bodied" Illinoisans who are on the receiving end of Supplemental Nutrition Assistance Program (SNAP) benefits, also known as food stamps.
"A work requirement for able-bodied under the age of 50 with no dependents is a good thing," Skillicorn posted on Facebook.
The Illinois Policy Institute reports that as many as 140,000 of the state's 1.8 million food stamp recipients could be impacted by the new rules, which require certain individuals to enter the work force or face the prospect of being disqualified from the SNAP program starting in 2020. Earlier this month, the Trump administration laid down the guidelines of the new program, which is designed to make it harder for states to get waivers to the work rules that have been on the books for more than two decades.
These proposed changes differ only slightly from the ones proposed by the federal government earlier this year, which would have only affected Illinois SNAP recipients in Cook County. Across the U.S., nearly 700,000 of the estimated 36 million SNAP recipients could be affected by the new rules.
Skillicorn, meanwhile, has been on a mission of late trying to bring about ethics reform in Springfield.
He recently joined four other GOP lawmakers in calling on Gov. J.B. Pritzker to convene a special session to tackle corruption. Their demand comes in the wake of two veteran Democratic state lawmakers recently being forced to step down after being implicated in ongoing federal corruption probes.
"Ending the culture of corruption is not rocket science," Skillicorn recently posted on Twitter. "Gov. Pritzker, call a special session now. Republican lawmakers push for a special session on ethics reform."
The group also includes Reps. Brad Halbrook (R-Shelbyville), Blaine Wilhour (R-Beecher City), Chris Miller (R-Oakland) and Dan Caulkins (R-Decatur).