Crystal Lake Central, South look to big men for big seasons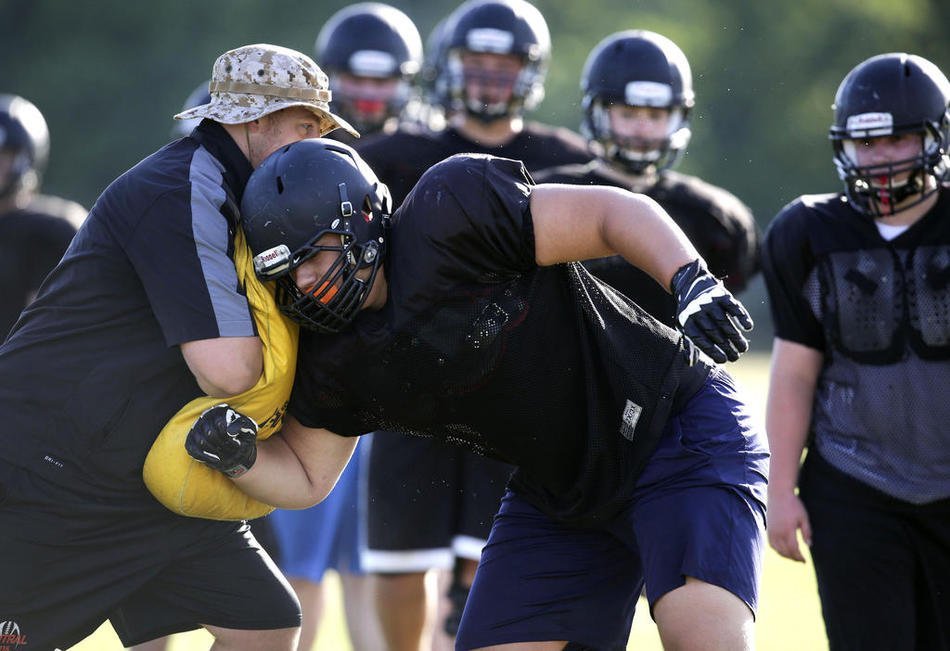 Crystal Lake Central's Wyatt Blake runs drills during summer training. | Photo provided
Crystal Lake Central spent a lot of time last season trying to fill in positional gaps on both sides of the ball. And while numbers are still down for the Tigers, more players are filling spots, allowing individuals to focus on one set of duties.
Central opened last at 2-0 but cooled off quickly as its struggles to keep spots filled grew.
Trevor Keegan
This year, the Tigers have 21 of their 22 starter positions locked in and are hoping to have longer winning streaks.
The Tigers open the season on the road, facing Grant on Aug. 25 in week 1 and Crystal Lake South in week 2.
Key for Central will be offensive lineman Wyatt Blake. A four-year starter and a Northwestern recruit, Blake packs a serious punch for the Tigers. He stands 6 foot 4, weighs 280 pounds and is an Illinois High School Football Coach Association 6A All-Star pick at offensive tackle.
With Blake on the line, senior quarterback Jake Staples should be able to have another standout year. Staples was ranked No. 4 in the area for passing yards with 1,766 last season.
He will have plenty of options when it comes to wide receivers, with Austin Ernd, Cade Gau and Casimer Plonczynski as starters. Daniel Manning, Joey Vega and Christian Crociata will also share receiving duties but will split their time as cornerbacks and defensive end respectively.
Jared Rohrbacker and Frank Carone will start as running backs.
Middle linebacker Seamus O'Donnell and defensive end Cade Keenan will lead the Tigers' defense. Both are still listed as dual players on the roster, with O'Donnell as a tight end and Keenan as a middle linebacker.
Carone will also play as an outside linebacker along with Jack Munn. Daniel Trowbridge and Chance Bain start as defensive tackles, while Casey Komperada and Wiktor Soltys make up the Tigers guards.
Crystal Lake South also is looking for improvement after a 3-6 finish last year, and it is putting its hopes on sophomore Dominic Collado.
Collado started for the Gators as a 6-foot-3, 290-pound freshman and now is at 6 foot 4 and weighs pounds. He looks to again start as an offensive lineman.
Trevor Keegan, at 6 foot 6 and 313 pounds, 6-6, will help anchor the line. The junior has been another standout for Crystal Lake South since his freshman year and has had a number of Division 1 scholarship offers from schools like Arkansas, Central Michigan, Illinois, Indiana, Iowa, Iowa State, Michigan, Michigan State, Minnesota, Northwestern, Purdue and TCU.
Junior Connor Skach will start as the Gators quarterback with seniors Anthony Young and Preston Miller as wide receivers. MIller will also share playing time as the Gators' cornerback.
Ryan Stratton will help lead the defense at nose guard. Tyler Beckwith and Reid Krausen will alternate as middle and outside linebackers, with Malik Smith playing dual roles as defensive and offensive tackle.
Want to get notified whenever we write about any of these organizations ?
Next time we write about any of these organizations, we'll email you a link to the story. You may edit your settings or unsubscribe at any time.
Sign-up for Alerts
Organizations in this Story
45 W. Franklin Street Crystal Lake IL 60014
Crystal Lake, IL
45 W. Franklin Ave.
Crystal Lake, IL - 60014
1200 S. McHenry Ave.
Crystal Lake - 60014
More News