Skillicorn cheers House for speaking truth to prejudice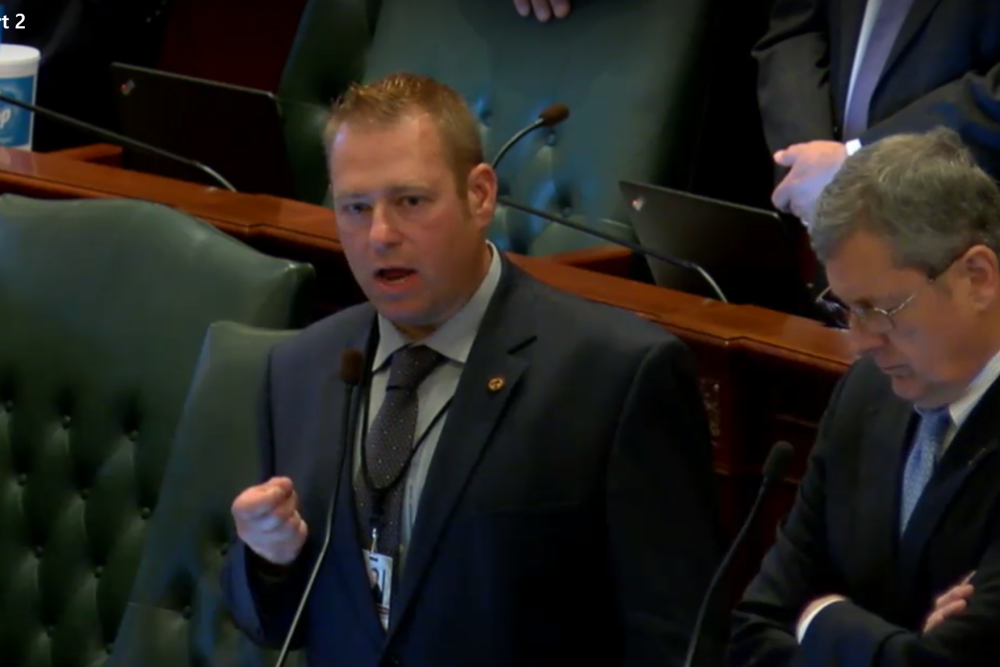 Rep. Allen Skillicorn (R-East Dundee) said on Wednesday that 'decent people' need to stand up to racism.
Illinois will uphold a person's right to free speech but will never accept hatred, Rep. Allen Skillicorn (R-East Dundee) said during a recent House floor discussion condemning racism.
"We have to remember that people have the right to say what is on their mind, but decent and moral people also need to speak up," Skillicorn said. "Decent people need to counter the rhetoric. Decent people need to stand up and say what is true, what is real. We need to stand up to people that push this hate."
Skliicorn spoke in support of House Resolution 569, which condemns neo-Nazis, white supremacists, the Ku Klux Klan and all other groups that promote racism. The resolution came in response to the Aug. 12 tragedy in Charlottesville, Virginia, in which James Alex Fields Jr., a 20-year-old Ohio man affiliated with white supremacy, drove a car into a crowd of anti-racist protesters, killing Heather Heyer, 32, and injuring at least 19 others.
Fields has been arrested and charged with second-degree murder and three counts of malicious wounding. The violence triggered what many considered to be a much-needed discussion on hate, race and terrorism.
HR569 was presented to the chamber by Elgie R. Sims Jr (D-Chicago), who lamented the need for the measure.
"These hateful actions represent an effort to spread fear and take us back to a very regrettable time in our nation's history," Sims said. "These actions seek to soil division in our communities and are a challenge to the very heart and soul of who we are as Americans. Now is not the time to be impartial. It's not the time to waver."
Skillicorn expressed his gratitude that the House was quick to address the issue.
"I'm very glad we're having this discussion," he said. "I'm very glad it appears that every single member of the House is standing on this. This is a good discussion to have, and I am glad that we are moving in this direction. Illinois has a long history of both doing what is right and also standing up for the First Amendment."
Skillicorn asserted his appreciation of the chamber for following in the footsteps of Abraham Lincoln when he "fought a bloody horrible war" over slavery and hatred.
"This resolution means a lot," Skilicorn said. "Law enforcement needs to swiftly move when there are credible threats. Law enforcement needs to swiftly act when there is violence. There (should) be zero tolerance for domestic terrorism."
HR569 passed unanimously, 105-0, with all chamber members added as co-sponsors thanks to a suggestion by Rep. Peter Breen (R-Lombard).
Want to get notified whenever we write about
State Rep. Allen Skillicorn
?
Next time we write about State Rep. Allen Skillicorn, we'll email you a link to the story. You may edit your settings or unsubscribe at any time.
Sign-up for Alerts
Organizations in this Story
More News